The ins and outs of our gummies
Our small-but-mighty gummy supplements are formulated using radically effective natural extracts and ingredients. You are what you eat – so only the best proven and nutrient-packed ingredients make the grade. And we're every bit as conscientious about what stays out as what goes in.
Açaí Berry
A bona fide superfood, South American Açai berries are packed with antioxidants that help to minimise cell damage. With a plethora of powerful nutrients,
Açaí is one of our formulations' hardest workers.
Astaxanthin
Your skin's new best friend, Astaxanthin is a nutrient powerhouse. Derived from the micro-algae that gives pink flamingos, salmon and lobster their rosy hue, Astaxanthin improves skin texture and elasticity and helps to smooth fine lines. Ours is extracted from the sustainably sourced (and entirely vegan) micro-algae 'Haematococcus Pluvialis', for the highest purity and potency.
Biotin
Also known as Vitamin H or Vitamin B7, Biotin supports cell reproduction and micro-nutrient absorption, giving you stronger hair and nails and healthier skin. Bonus: it also helps with energy metabolism.
Inulin
A naturally sweet fibre, Inulin is a powerhouse prebiotic, which nourishes the microbiome in your gut – the cornerstone to optimal skin and body functioning and – according to studies – even good mental health. Ours comes from the roots of chicory grown in the Netherlands. Each gummy contains 1.7g of Inulin.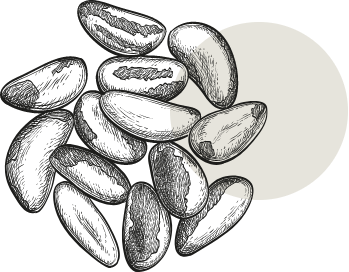 Selenium
Selenium is an all-rounder, preventing damage to cells and tissues (including skin and hair) and promoting a healthy immune system.
Sugar
Thanks to the naturally sweet Inulin, our gummies only need a touch of sugar to taste irresistible – each one contains less sugar than a single cherry. (By all means indulge a sweet tooth, but don't make it your supplements.)
Vitamin E
Environmental pollution and blue light from endless Zoom calls takes a toll on skin and hair – but vitamin E works to protect cells from oxidative stress, defending them from the inside out.
Vitamin C
An excellent ally in building a strong immune system, vitamin C's lesser-known superpower is boosting production of collagen in the skin.
Vitamin A
Vitamin A, also known as retinol, is scientifically proven to support healthy skin and hair, as well as boosting your body's natural immune defences.
Zinc
An all-star player that is clinically proven to help maintain lustrous hair and strong skin and nails; support a healthy immune system, regulate hormone levels and nourish cells.